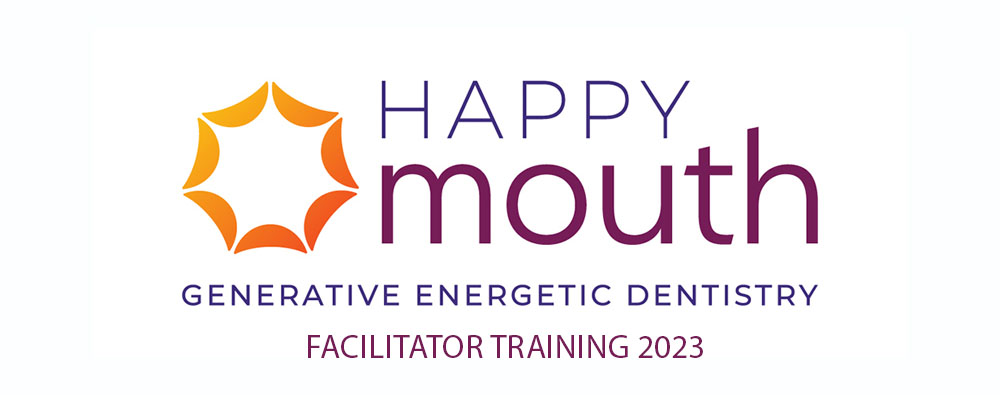 Happy Mouth™ Generative Energetic Dentistry 3 Day Facilitator Training March 2023
The training will be held only once a year.
Livestreamed over 3 days, 5 hours class each day.
Simultaneous translation available.
You will have a Facilitator's manual in your language.
Attendance to all sessions is required.
A recording will be made for later listening.
Dates:
Europe/Russia/India / Australia/Japan
Friday March 3, Saturday 4th and Sunday 5th – Time link here
Moscow 10am 3pm, Warsaw 8am -1pm, Brisbane 5pm -10pm,  Mumbai 12.30pm – 5.30pm, Tokyo 4pm – 9pm
Japan/USA/Mexico (Spanish translation – Japanese if required)
USA/Mexico Friday evening 17th March to 19th – Time link here
March Saturday 18 -20 Australia 9am – 2pm, (Tokyo 8am to 1pm)
Mexico City 5pm – 10pm, Argentina: 8pm – 1am, Toronto 7pm -12
Register Here
You can pay a $500 USD deposit now and then you have until the class commences to pay off the remaining $1000.
Prerequisites
Pre-requisites must be completed before you commence teaching a 3 day class.
Dr Tom will have approval over who becomes a 3 Day facilitator (before the training commences)
Have taken 3 live or livestream 3-day Happy Mouth classes with either Tom or Shauna

Be a Basics facilitator for at least 6 months

Submit a video of two of your Basics classes and audios of 2 of your Intro classes. (1.5 hours – could be an Intro telecall or zoom). These have to be approved,

they will be watched and listened to, and if necessary, more training will be given.

Attend the Facilitator training – invitation only
You do not need to have paid for your licence before the training. (But you will need to make at least a $1,000 deposit on the licence and fulfil all the requirements before you begin facilitating the 3 day class.)
Licence Fees – You can pay this after the training
If you live in a $1695 USD country (this includes Russia, Argentina, Australia, Japan, Poland and Hungary) the licence fee is – $5085 USD.
Or a $1440 USD country – (Mexico, Chile, Mali) – the fee is $4320 USD
Or a $1950 Country is $5850.
You may pay a $1000 deposit and $500 each month until paid off.
BUT! You can begin facilitating classes as soon as all of your requirements are met and you have paid $1000 deposit on your licence.