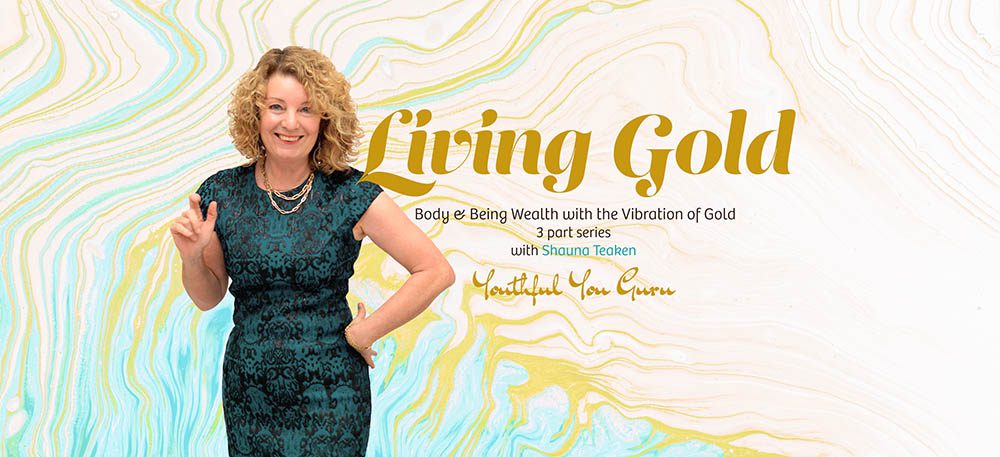 Body & Being Wealth with the Vibration of Gold w
ith Shauna Teaken
In this 3 part series, we explore having the wealth of your body and being, (which includes money) from relaxing, enjoying yourself and also being very present at the same time.
.
There is work involved but probably not the way you think. (Hint: We'll be using Gold Energy Flows, my unique form of energy exercise).
 Most of us have been taught that AFTER you get 'enough' money, THEN you can relax and 'switch off'.
 It's quite the reverse! There's a whole world of interesting, exciting possibilities out there, once you stop worrying about money. The contribution we can be to our families, countries, the earth, the animals – our bodies – is huge once this one thing is sorted. We can actually get on with what we came here for!
You have to 'switch on' (pay attention), relax a bit and start having a little bit of fun, FIRST.
Then there's a couple of steps I'll describe in the Living Gold series.
 For centuries, Gold has represented money, health, wealth and power.
What is it about the very nature of gold, it's frequency that makes it so sought after? Is it possible to have that?
Pre-Requisite: Youthful You 21 Days Energy Activations.
Translation available in Hungarian
You'll receive the audio downloads & replay of this 3 part series of 1.25 hour zooms.
This class is only available to those who have already chosen the "Youthful You – Daily Energy Flows Activations Series"
You can purchase this here – If you have already purchased this class please login below
Bio
Shauna Teaken began working in the health and fitness industry in the late 1970's.  Having guineau-pigged most diet/exercise/personal growth systems on her self, she has a light hearted yet surprisingly effective approach to joyful living with youthful vitality that goes beyond the expected.