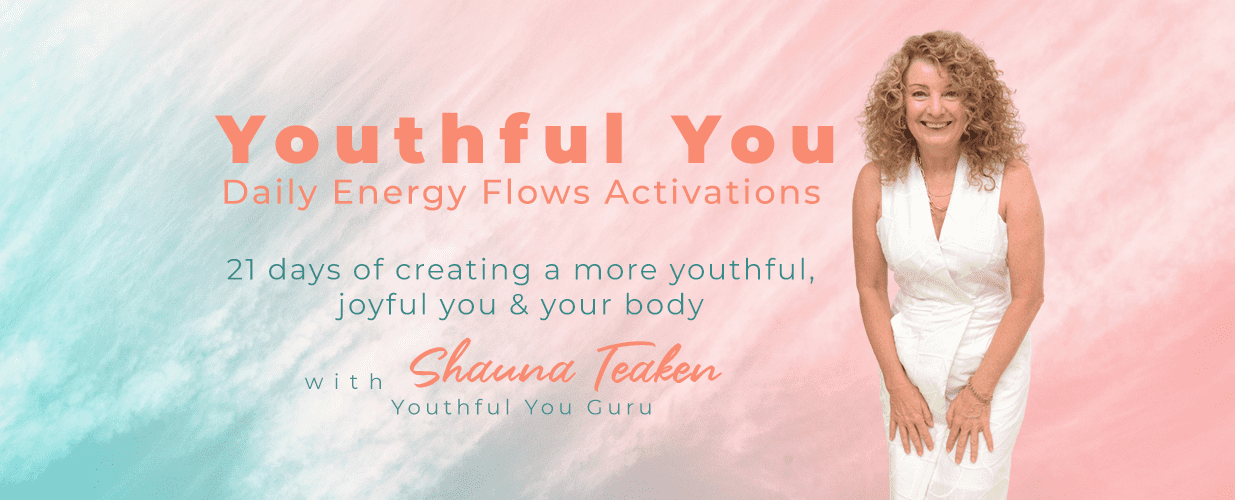 Youthful You – Daily Energy Flows Activations Series
What if bodies didn't have to lose vitality and health over time?
What if the youthful exuberance, energy and enthusiasm of a child was still available to your body?
Join Shauna for an easy, enjoyable and relaxing series of 15-20 minutes a day where we will combine running energy activations and hands-on body processes to activate our own Youthening System.
This completey new, revolutionary system, in the form of  daily energy exercises (a little like guided meditations) will assist you to access your body's natural capacities to relax, heal and 'Youthen'
Once the body's Youthening Activation Systems are stimulated, you'll find your awareness about what food, exercise, supplements etc your body requires is not only enhanced, but becomes easy to follow.
Deliciously relaxing yet deeply revitalising.
Emailed to you to watch and/or listen each day for 21 days.
What's after the 21 days? Join the Luscious Living Adventure, or the following series use the Energy Flows: "Youthening Starts in the Mouth" & "Living Gold Money" (These are half-price for Luscious Living Adventure members)
Bio
Shauna Teaken began working in the health and fitness industry in the late 1970's.  Having guineau-pigged most diet/exercise/personal growth systems on her self, she has a light hearted yet surprisingly effective approach to joyful living with youthful vitality that goes beyond the expected.
"The youthening processes were so cool!. I thought they were going to be more like the Energy Flows (and they kinda were) but they weren't AT ALL!
I was blown away at how they ran, the way the energy moved through me was totally different and I felt way, way more open to the energy coming through – which I totally hadn't anticipated…. This is like another level of receiving.
They were totally awesome, thank you so much! It was so dynamic, so simple, and you [Shauna] did it with such ease, so much shifted. This was totally different. The Youthening is definitely a different Energy Flows on its own."
~ Sean Phiilips
"Wow Shauna Teaken, that was fantastic! I loved so much about it. I've been turning on my sexual, sensualness. Turn it on and turn it up!! Whhoohooo! I didn't think to ask about ownership of my reproductive system. I took back my ownership of my reproductive system and my whole body! Thank you for that! I'm receiving sooo much from these recordings! I've been taking notes on each session. I'm so grateful for your insights and the delightful way you present them. So what would it take to have a juicy, enjoyable, pleasurable life that worked for us?"
~ Sharon Perkins