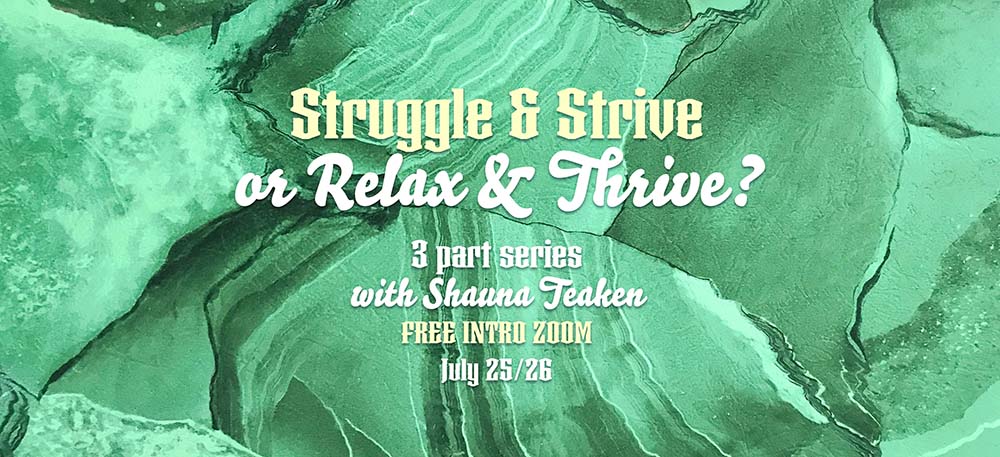 Struggle & Strive or Relax & Thrive
Struggle, resistance, worry and stress not only creates inflammation and ageing all through the body (including the gut, joints and teeth & gums), it limits the flow of happiness, health, wealth and enjoyment of life.
Is there another possibility?
There is!
In this 3 part series of one hour zooms, you'll learn the tools to 'switch' out of Strive into Thrive, with the latest physical  and energetic processes.
Could it be that the majority of disorder in the body – including inflammation, hormonal imbalance, weight imbalance, symptoms of ageing are also directly related to money flows and enjoyment of living?
Shauna Teaken has been working in the field of health and healing since the late 1970's.
The "Thrive" series is the latest development in her ground-breaking work with the activation of the body's Youthening Systems and the Youthful Body Class.
Translation available in:
Spanish, Polish & Hungarian 
Audio & Video replays provided.
Bio
A long, long time ago, (about 40 years!) I was one of the first people in Australia trained in Deep Tissue Muscle Therapy, a form of very deep and intense massage which focussed only on one area of the body for 90 minutes at a time.
It was at times excruciatingly painful, as working with the breath we sought to release the body from long held memories of trauma. It certainly wasn't for everyone! My regular massage clients would beg me to go back to 'normal' massage!
I just knew it had to be easier than this! I moved on to many other modalities, seeking , seeking, seeking. How to unlock lifetimes of limitations in the body with ease and also unlock the body's natural capacity for regeneration?